Laparoscopic Surgery- Boon for Patients
Consult the top Laproscopic Surgery hospitals in India and check out the List of Best Laproscopic Surgeons of India to get the most affordable Laproscopic Surgery in India.

Date: 11/12/2019 11:17:32 AM ( 25 mon ) ... viewed 540 times
Overview: Laparoscopic Surgery
Laparoscopic Surgery, also known as Minimal Access Surgery (MAS) is a surgical technique through which surgeries are performed by giving very small/tiny incisions i.e. 'ports' in the body. Laparoscopic surgery is performed using an end vision system known as a Laparoscope to look at the abdominal organs.
A laparoscope is a long, thin tube with a high-intensity light and a high-resolution camera at the front that sends images to a video monitor. During Laparoscopic Surgery, a surgeon inserts a laparoscope composed of a telescope, a video camera and multiple tiny instruments for laparoscopic surgery through each port a tubular instrument, known as a trochar in the abdomen.
The laparoscope allows the surgeon to better viewing of the internal organs on a monitor or TV screen through HD and 3D systems and performs surgery. During the Laparoscopic surgery procedure, a thin needle called Cannula is inserted into the abdomen through which carbon dioxide gas is introduced to inflate the abdominal cavity.
Inflation of the abdomen provides the surgeon with better visibility, enhanced dexterity and space to perform the operation. Once the abdomen is inflated, a laparoscope is inserted through the incision to clearly view organs on-screen and diagnose the trouble.
If surgery is required, other incision will be given for instruments to be inserted through these ports and surgery is performed using the laparoscope. On the completion of the procedure is Carbon-dioxide and all instruments are removed and incisions are closed with stitches, bandaged for recovery.
As of now, most abdominal and gynecological surgeries are performed by surgeons through laparoscopic surgery. Apart from abdominal laparoscopic surgery, even orthopedics are also using a laparoscope for viewing inside a joint for diagnosis and perform Arthroscopy through a laparoscopic surgical procedure.
Considering enormous utility and advantages, nowadays urologists have started adopting laparoscopic surgery for treating problems related to the urinary tract and prostate surgery. Laparoscopic surgery for chest i.e. Thoracoscopy is also becoming a preferred choice for chest surgeries.
Considering the efficiency of surgeons, the laparoscopy surgery success rate in India is extremely high. Most of the best-rated hospitals have created a team of specialist doctors for Minimal invasive, metabolic and Bariatric Surgery for achieving high laparoscopic surgery success rates in India.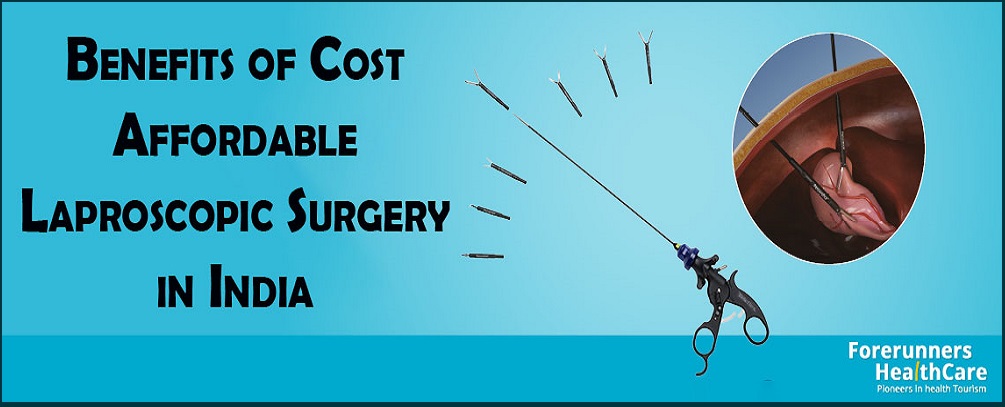 Benefits of undergoing laparoscopic surgery instead of open surgery
Surgeons prefer Laparoscopic Surgery instead of open surgery as it offers several benefits to the patients.
Laparoscopic surgery:
· Reduces blood loss
· Causes less post-operative pain
Facilities faster recovery

Reduces hospital stay

Early return to normal activities

Less post-operative complications

Better clinical outcome

Less internal scarring

Promises better cosmesis i.e.preservation, restoration or bestowing of bodily beauty
Precautions to be taken after laparoscopic surgery
Patient after laparoscopic surgery should:
Take rest

Not drive or participate in sports

Not lift heavy items

Cover stitches with an adhesive bandage

Take a shower or bath after 48 hours of surgery

Start swimming after 2 weeks

Take a lot of fluids

Avoid citreous fruits and juices
Though recovery and return to normal activities after laparoscopic surgery depend upon the type of surgery, general health condition and your body's reaction to the surgery yet most patients return to normal activities in 2 -3 weeks.
What is a surgeon's outlook on the patient after surgery?
For safer, faster recovery and prevent any complication, the surgeon's outlook to a patient following laparoscopic surgery always remains to advise patients to refrain from indulging in heavy-duty activities and take all precautions.
Yet the patient must contact the doctor in case of complication like:
Persistent or worsening abdominal pain

prolonged nausea and vomiting

Fever of 101°F or higher or chills

Redness, swelling, bleeding, or drainage at the incision sites

Persistent cough

Shortness of breath

Inability to urinate

Lightheadedness
Add This Entry To Your CureZone Favorites!
Print this page
Email this page
Alert Webmaster