OMG! I found these 2 types of
parasites
in a brand new ~sealed~ package of pasta! One is a moth larva(I think) and the other looks like maybe a type of tapeworm. It looks like it fed on blood meals because it's big and red. I mean it couldn't have fed on dried pasta and look like that... could it? It's about 2
inches
long and as dried up as the pasta. Maybe it fell off of a contaminated worker?
I wonder if eggs in the proglottid segments would still be viable after presumably going through the oven?
Think I'll go for Chinese... Never mind I'm not really hungry anymore!
Here's a link to food contamination:
http://www.cdc.gov/parasites/food.html
Moth larva:
Still in package:
Segments(proglottids) are easy to see: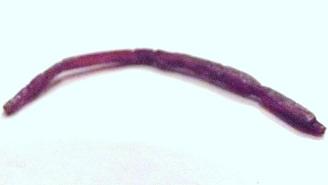 Looks like teeth!!
Segments separating: