Hello everyone, I promised I would make a post with pictures to prove that this condition can be cured and now is the time! I developed EC in October 2010 from using a toothpaste called Rembrandt for Canker sores. No, my EC was NOT caused by chapstick, blistex, vaseline, or anything like that. However, I do believe that some of you may have triggered your EC with such products if you are either A. allergic to them or B. addicted to using them (like Dr.
oz
said in the recent post). When I developed this condition I didn't automatically connect it to the toothpaste I was using. I did, however, try countless lip balms/products with little to no success. Even aquaphor, which I had used in the winter faithfully for years, did not do the trick. The first thing I noticed was that a small portion of skin in the middle of my upper lip kept peeling off. I didn't worry until it spread to the rest of my upper lip and then, later, the bottom. So, I decided to take a trip to my dermatologist. She initially gave me Dr. Dan's cortibalm, a lip balm with hydrocortisone. That didn't work So I went back to her and she prescribed me fluocinonide, a stronger steroid treatment. This seemed to reduce the inflammation I had, but it certainly didn't stop the peeling and my lips still had a burning sensation frequently. I then decided to take it up on my own to cure myself. I thought, maybe it's a fungus. I applied Lotrimin to my lips to try and kill it (DO NOT DO THIS), but that, like most other treatments, seemed to work initially and then just fizzled out. I later obtained a prescription strength anti-fungal from my derm along with another steroid to use in combination but, you know the story, it failed! I was hopeless, desperate, and more depressed than I'd ever been in my life. Thoughts of suicide plagued my mind because my quality of life was at an all time low. I found myself in the darkest place I'd ever been in my life. I found these forums shortly after and scanned nearly every page for a cure, but no one seemed to have an answer. Then I found the posts about the "Japanese treatment" and the claims made by a user named cureforcurezone stating that he/she had left their lips alone and it eventually subsided. So, around November 9th, 2011, I decided that I would leave my lips alone for as long as possible and finally get over this condition.
Generally the peeling cycle throughout this process went like this: the area which was going to peel would turn white and gooey and often come off simply by putting my lips together. This went on for a few weeks, but eventually it would harden, turn yellow, and peel off. After a few weeks of that, the area would be healed and a New area would peel off.On June 7th, 2012, I woke up with normal lips and, I'm happy to say, I am officially EC free!
Now, before I post a few pictures to PROVE that the "leaving them alone" method is the way to cure yourself, I want to address a few questions that come up a lot on the forums:
- Peeling gets thinner as you progress and the affected area (for me at least) moved down my lower lip (my upper lip was cured after just ten days of leaving them alone!).
- Weather DOES affect EC to an extent. This condition was more of a pain in the winter than the summer for me. Seems like common sense, but I've seen it debated here.
- You CAN use chapstick/vaseline/ointment When your lips heal like a normal person would UNLESS it triggered your EC, and do not over do it!. It's all about finding the root cause and eliminating it. For me it was toothpaste, but for you it could be something else. Most likely, if you're having an allergic irritation, then you're experiencing the burning feeling too.
- How long it takes to see initial improvement varies on how long you've had the EC I believe, so I can't really answer that. All I know is it starts to feel better before it starts to look better. Whether or not it takes everyone 6-7 months to heal (your lips basically have to regenerate themselves completely) or it is a ratio of how long you've had EC/ how long you've left them alone I do not know. With more people healing, we may uncover the answer to that soon.
- Getting them wet is OK as far as I'm concerned, but try to keep the crusts on your lips if at all possible.
- If you have other questions leave them below. I'll be here for a week or two answering them and them I'm moving on with my life. Thank you, and God bless all of you.
This picture was taken january 17, 2012. just over 2 months in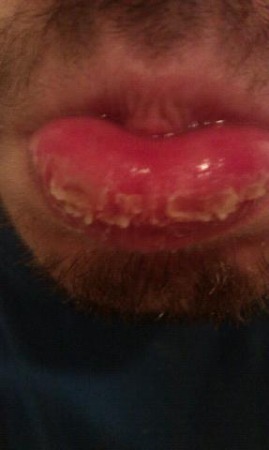 This picture was January 26, 2012. Note that this is the beginning of a new area peeling off as it seemingly moves down the lip.
This picture was taken May 27, 2012. Toward the end of my healing, a sticky white line of dead skin formed above the peeling area. I'm not sure why, but it only happened toward the end.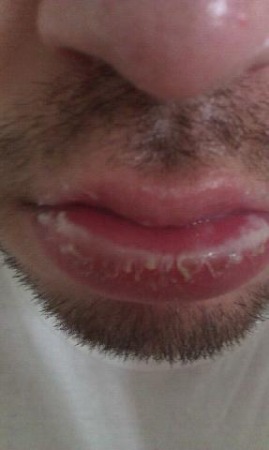 This picture was taken June 7th, 2012. Healed
I want to leave you by saying I know how hard it is to live with this and I know that these pics I'm posting will probably end up somewhere else, but I'm okay with putting my lips out there if it helps convince some of you skeptics that this truly does work. I didn't change my diet, I didn't cleanse my colon, I didn't rub any magic cream on my lips. I had blood work done countless times and I'm more them healthy. This is NOT and internal problem for most of us. I Left them alone and it cured me. I wish all of you the best and I want to give a special shout out to Daniel Miller in hopes that he continues his journey and documents the whole thing. I believe that kind of evidence will silence anyone who doubts that this works. You're all very brave to face this condition every day and I know you will get though it. It gets better. Goodbye.