Hi Vunk, how I wish I was happy and didn't mind my lips at all. I remember some of your older posts. How are your lips doing?
As for my story, here it is.
Background:
* 2002-2007 - Moved from a humid tropical country to a dry temperate country in 2002. First time I noticed I had dry, chapped lips. Never took a closer look at them though so I don't remember whether they were peeling off repeatedly. Used lip balm a lot.
* 2008-2009 - Lived in humid tropical country. Stopped using lip balm. No problem with lips.
* 2009-2012 - Lived in dry temperate country. Dry lips. Again, never took a closer look at them so I don't remember whether they were peeling off repeatedly. Used lip balm a lot.
* April 2012 - Highly stressful episode. Dry lips got much worse. Used lip balm a lot. Started to have a painful large wound on my bottom lip. Stopped using lip balm and started to put honey on my lips. Wound healed that same day but crusts and itching persisted. First time I noticed my lips were peeling off repeatedly.
Things I've tried so far:
* Putting organic extra virgin coconut oil on my lips in the morning and at night (right after brushing my teeth and washing my face) and at other times of the day.
* Taking 1 tsp of extra virgin coconut oil 2-3 times a day.
* Going to a brine thermal spa once, swimming in their pools and using their steam bath (100% humidity at 47 degrees Celsius). My lips looked perfect afterwards and stayed that way for 3 days.
* Leaving them alone for a month. But the crusts got so thick I went back to using coconut oil. (The crusts became thinner and more bearable afterwards. Although I'm not sure whether it was the coconut oil or the warmer temperatures that caused the improvement.)
* Avoiding biting, licking and stretching them.
* Breathing through my nose (instead of my mouth).
* Drinking plenty of water.
* Using a straw.
* Preventing lips from getting in contact with food, toothpaste and hot water (using a small spoon to eat, keeping mouth closed while chewing, lifting chin while brushing teeth, using cold water to wash face and brush teeth, using shower only from neck down).
* Putting honey on lips.
* Avoiding fluorescent light.
* Having my husband do "laying on of hands" and EFT (Emotional Freedom Techniques) on me.
* For a week now, taking probiotic and homeopathic remedies prescribed by a naturopath.
* Also for a week or so now, drinking Brottrunk/Bread Drink (a probiotic drink).
Other things that may be relevant:
* During the stressful episode in April, I also had very dry skin and itchy red spots and bumps all over my body, which was later diagnosed by a dermatologist as eczema. I've often had dry skin but never that bad. I also had eczema when I was a kid and for a short while, as a teen and in my early twenties, but again, it was never that bad.
* I've been using organic, all-natural toothpaste/soap/shampoo etc. for over 5 years now.
* I've been using organic ingredients at home for over a year now (I do eat out in non-organic restaurants and order non-organic food from time to time).
* I stopped eating meat over 7 years ago. I do eat fish/eggs/dairy sometimes.
* I have bouts of
Depression
from time to time.
* Apart from my peeling lips, dry skin and occasional depression, I'm not aware of any other health problems. I hardly ever get ill.
* I used to meditate, do yoga and go swimming regularly. I stopped doing all of that in April. Right now, I'm trying to get back to meditating regularly.
Current state:
My lips definitely look much better than back in April but I want to heal my lips completely soon. Now if possible. :-)
I wish I had taken a pic back in April. Anyway, here's a pic I took this morning.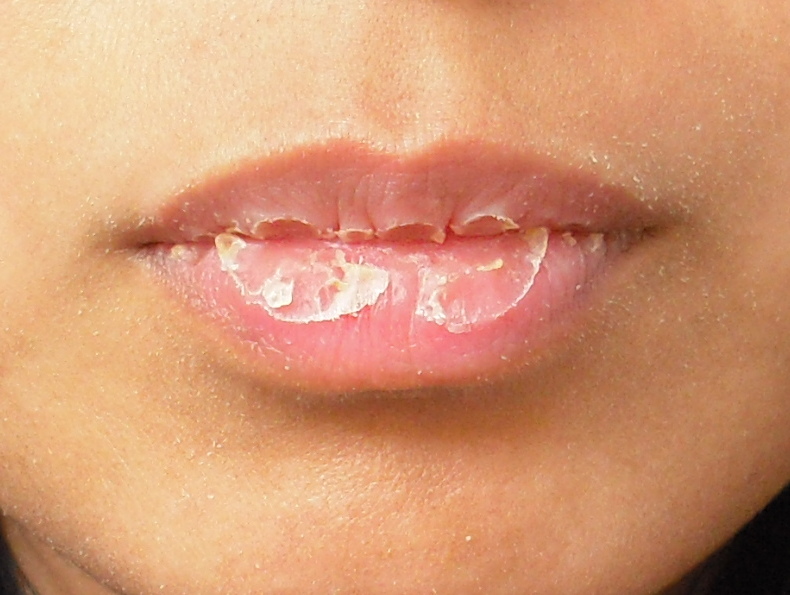 Wishing you and everyone healed lips!
Wood Pigeon