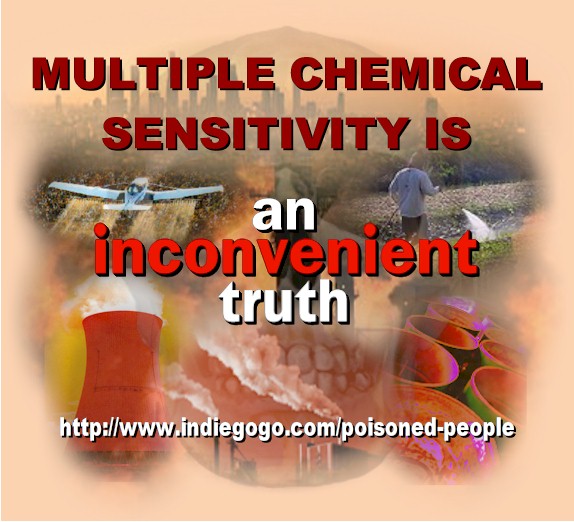 Father & Son Repeatedly Poisoned By Pesticide.
Nephew Sacrifices All His Savings To Save Us.
Greetings. My name is Murray and I live in Australia. My main PESTICIDE POISONING Campaign is located at:http://www.indiegogo.com/poisoned-people. It explains where my son and I are at with our chemical injuries. These include: brain damage - significant memory & information-processing problems, chronic polyarthralgia pain, sperm damage, Multiple Chemical Sensitivity, Chronic Fatigue, painful muscle spasms, aggression/fear, anger, anxiety, panic attacks, explosive rage (especially in thoughts) and "suicidal ideation".
We were repeatedly poisoned by pesticide, even though our poisoners knew -- especially -- that I was already chemical-sensitive. And now I've spent the last 12 years fighting my poisoners. My Campaign has multiple Human and Environmental Health studies I've done that are availble for download.Genetics or not, and definitely NO to proposition "all
Chronic-Fatigue-Syndrome
complainants are simply lazy!", I fully believe that pesticide/solvent exposure has been the signature cause of all my above symptoms, and the psychological damage that my son experiences.
I've read in forums about chronic fatigue virus theories, however my experience and research (I have a Degree in Environmental Health) shows up chemical pollution as the main causative factor. Chemicals/pesticides weaken us, and THEN viruses and the like move in for the kill. The combination of chemical poisoning and then viral/bacterial action is devastating. And, given that ADHD in kids has been linked to Glyphosate herbicide, I think the links between toxic chemicals and conditions in children are now very obvious.
And, "healing"? I think that the notion of recovery from
Chronic-Fatigue-Syndrome
and the like needs to focus on the elimination of the toxics from our bodies.As if that isn't enough, THEN you have authorities (medical and legal) that amplify all the anxiety, stress,
Depression
and misery of
Chronic-Fatigue-Syndrome
by denying that it is a real condition. Also, there are the legal teams that venomously and pathologically defend their clients who are responsible for your poisoning, and make the poisoning victim out to be the only responsible party! In my legal case in Sydney, it was declared that I purposely planned to get poisoned (to justify legal action), and that all my symptoms were "subjective"!
My other Campaign listed below is about my unselfish single nephew who has sacrificed every cent he had (and many he didn't have) to help me pay the legal costs of fighting against our poisoners (what the injury doesn't do to you, legal action will...). See:
http://www.indiegogo.com/the-good-samaritan.
Now my hero is in serious debt and cannot afford to advance his life: marriage, family and a home are now utterly unaffordable because legal action drops all your savings into a bottomless pit. I want to pay him back for his financial sacrifice AND for the remarkable person he is. Please help me address the scourge of pesticide poisoning.
Regards, Murray