Update on healing, and toxic overload/immune theory.
I just wanted to add a couple of things to my previous posts, including an update on my situation with photos.
First, in relation to the stuff on toxic overload I mentioned before in the "immune system theory.." thread, I also think the lymphatic system may also be playing a role in our condition. This is the system of vessels throughout the body that contains the fluid "lymph", which bathes the tissue cells. One of its main functions is to remove and destroy toxic substances throughout the body. It plays a big part in the immune system. With regard to the lips, lymph fluid flows down through the mouth and down the neck. It then gets filtered in what are called nodes. Anyway, when the lymph system becomes blocked, congested, or sluggish, through long term stress or other health issues, the toxic crap doesn't drain properly, and a toxic environment ensues. It can lead to skin conditions, among many other things. I was just wondering it this may be the case for some of us, in addition to what I mentioned a couple of weeks ago, and maybe lymph nodes in the lips are failing to remove toxic chemicals properly. I mention this, because I had begun doing a minor lymphatic drainage exercise, linked below, a short while before seeing positive results with my condition. I didn't put it down as a main cause of my success in the previous posts, mainly because I wasn't doing it long, but having looked up a lot about the lymphatic system since, it may have made more of a difference than I thought.
Anyway, here's an update to my lip situation. I got a hold of a USB cable for my phone and uploaded some photos. Here is what it looked like on March 10th:
And March 13th: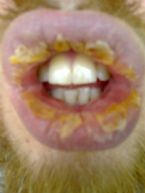 (The condition probably looks even more disgusting surrounded by my beard in the pics!).
In the days after the latter image, the skin peeled off, as it normally does towards the end of the peeling cycle. But this time, in the following weeks, the crusting didn't grow back as usual. Instead there was minor flaking. The week after that it was miniscule. And this week, it has pretty much stopped flaking, getting only slightly dry and flaky on the outer lip once when I was stressed (once again highlighting what many others have noted: a difference with stress. Stress definitely has an impact in some way, either directly affecting the skin growth cycles, or indirectly through the immune system, lymphatic system (it can cause lymph congestion and is known to add to the toxicity of the body). It may also somehow be suppressing the salivary glands causing dryness, but that's just guessing.
Here are pics of how they are now (April 27th) (the sore on the left of my upper lip is unrelated to the condition):
So, if this whole toxic overload/lymphatic congestion/immune theory has any substance, then many people here who have the same condition as in my photos should see some improvement with the method I posted before and will post below again. Because on the one hand you're eliminating toxic stuff from being absorbed by the lips when removing products with chemicals, etc, and on the other hand you're eliminating the overall toxic load of the body as well as helping ease lymph congestion. The length of time may vary depending on the level of toxicity in your body, or lymph congestion.
If many don't see improvements with detox methods, then this theory can be consigned to the bin. (For those with symptoms relating mostly to pain, redness, stinging, swelling, I'm not so sure - as an aside, I think only the condition with the symptoms of inflammation, such as the pain, stinging, redness etc should be called "exfolliative cheilitis", given that cheilitis means inflammation and this can be misleading for doctors/dermatologists who assess those without those inflammation symptoms, and make it easier for them to dismiss it on not finding these markers…the non-inflammation condition, such as in my case, could do with a different name. Some people may have both conditions of course, while I'm sure some posters here possibly have some other skin condition going on).
Either way, I'm done looking up stuff on this godforsaken condition, and am just glad I managed to find something that worked in my particular case. I'm going to leave it for quite a long while before posting any potential future update, to see if the method I have found works out to be a long term healing method/"cure".
Good luck.
Sean.
Here's what worked for me again (this time with the lymphatic drainage massage included), for those who haven't seen it. I noticed huge improvements after about 6-8 weeks. The cycles of crusting/peeling of layers of skin has stopped totally since about 4 weeks ago, so it's looking good, but early days.
First part: Removing toxic substances that may be adding to the toxic overload in the body.
- So, stop using all products containing chemicals, such as toothpaste, makeup, mouthwash, soap, sprays, etc. Also all lip products. Buy bicarbonate of soda in the supermarket, (i.e. baking soda/bread soda (containing 100% bicarbonate of soda), along with fine 100%
Sea Salt
(already ground). Mix some of the salt into the bicarbonate of soda and dip your toothbrush into this and use instead of toothpaste each day (the taste takes a bit of getting used to). If you absolutely have to use some cleaning product or whatever, then go to a health food store and buy one that's 100% natural and organic (or as close as), making sure there are no chemicals such as Sodium Lauryl Sulphate in it. Exposure to chemicals in other ways should also be eliminated.
- Reduce/eliminate caffeine-containing products, alcohol, unhealthy processed foods, etc.
-For those whose condition relates mostly to pain, redness, stinging, swelling, etc (which I think is inflammation related) go to alternative healthcare practitioner that specializes in allergy testing.
Second part: Help reduce the overall toxic burden in the body (i.e. detox), as well as doing other things to support the body in healing/detoxing.
1) Oil chewing/oil pulling: Buy Organic virgin Sunflower Oil/ or Organic virgin Sesame Oil or Organic virgin Vegetable Oil (Make sure they're cold pressed/first cold pressing) in a health food store. Each morning before breakfast put two tablespoons of this into your mouth and swish it, chew on it, squeeze it between the teeth and lips, swash it around the mouth. Then after 15 mins spit it out into the sink and rinse your mouth out thoroughly with water. It is a method of drawing in toxins, as well as stimulating lymph movement.
2)Lymphatic drainage/massage. Helps deal with lymphatic congestion, thus helping the removal of toxic buildup and also helps the immune system. There are professional lymphatic drainage massage therapists out there who give whole body massages. I found this self-massage on youtube:
http://www.youtube.com/watch?v=QA-wi0d7-Ro
I do it once a day. It's mainly drainage of neck and head (There are many lymph nodes in the neck). It's not as major as going to get a full body lymph massage, but it may have helped more in improving my lip condition than I originally thought. Other methods of helping with lymph congestion are out there.
3) Buy products that can help remove toxic chemicals from your system. I use Chlorella (green algae) tablets, Resveratrol (an antioxidant) capsules, Kelp tablets, and evening primrose oil capsules
4) Buy a good multivitamin (I use Immunace) and eat nutritious healthy foods.
5) Get plenty of sunshine, exercise, water, fresh air.
(I began doing the different things mentioned above over a number of weeks, so I am not sure what has had the most impact or how long each took to take effect. Having checked receipts etc, I began first with the Reversatrol and baking soda/sea salt in the second week of March. The last thing I added was the lymph massage exercise, at the very end of March or beginning of April. The last major crusting of the skin was probably towards last week of March).
Then look into other detox methods, such as heavy metal removal; dealing with parasites, "bad" bacteria, fungi/Candida yeast problems; proper
Amalgam
tooth filling removal and replacement with composite (mercury leak from fillings can be toxic); good
Colon Cleanse
& liver cleanses, etc. (I've noticed that there are forums on curezone relating to all of these, and other detox methods, but I haven't checked them out properly yet.)
That's me signing out for a long while. Hope it works for some of you.