Re: Update on healing, and toxic overload/immune theory. by snow33 ..... Peeling Lips Exfoliative Cheilitis
Date: 5/2/2012 9:23:27 AM ( 10 years ago ago)
Hits: 4,588
URL: https://www.curezone.com/forums/fm.asp?i=1935854

Here are some answers i've already PM'd to jsl123, with additional images here. Others may be interested in what he was inquiring about.

I will answer your questions, but I think overall it's more about the overall removal of products with chemicals and foodstuffs/drinks with toxic stuff in them, as well as detox methods to remove the overall toxic levels in the body that are most important, as opposed to the nitty gritty of how I shower, etc, as this should not matter when the lips heal properly. But I fully understand your curiosity about these things. So here's a few answers:


As regards the food, no I don't follow any juice/veg diet or any thing like that, but my diet is pretty healthy. For example, breakfast each day would consist of a cereal such as porridge/muesli/branflakes, with maybe 1/2 chopped banana, 1 tsp honey, milk or soya milk (i/2 week milk/ 1/2 week soya), etc. Then either 2 toast/soda bread and a 100% juice (orange or pineapple usually, or tropical). Lunch is usually 3 salad sandwiches, lettuce/tomatoes/cheese, sometimes mackeral/sardines, etc, usually with small bit salad cream. And a fruit, such as apple, pear, kiwi or whatever. Then the evening meal is usually a rice, pasta or potato dish, with veg and a rice or pasta sauce or whatever. I always eat a meat, such as beef mince, or chicken, or fish. Dessert would be icecream with a sprinkle of muesli or rice pudding mostly. Once or twice a week I may have a chocolate bar, or biscuits/cookies. But i've more or less totally cut out fries, potato chips/crisps, or processed food like that (maybe every 6 weeks or so i have fries). I've given up black tea (I never drank coffee); for a while I was taking 3 cups of green tea a day, but then found out that green tea also contains caffeine ( but less than tea or coffee), so now I drink a herbal tea I got in a health food store. I've given up alcohol since last Autumn, with only some beers at Xmas.


As for water, I don't drink a huge amount, but ensure enough supply throughout the day. I carry a bottle of water with me most of the day to sip out of. I have a glass at each meal. If i'm exercising I would add a lot more. But I don't take many litres per day.

As regards showering etc. Over the years with the condition, when trying to keep the lips dry to ensure the skin didn't get all tender and come off, I would have tried to avoid them getting wet. Other times then I would have not bothered, having given up on them healing at various times, and just let them get wet. Around the time of the second image in the update I posted above, I was trying to keep them as dry as possible to prolong the cycle of growth to see if this time around they would heal. But as they got soft and brittle they once again became very tender and the skin would start to come off, either when eating or even when just closing my mouth. As you probably know yourself, after a couple of weeks of the skin growth when the skin has started "crusting" or whatever, like in the pic where the skin has turned yellow, the skin becomes very fragile and comes off quite easily.

So when this happens, as was the case again in the week or so after that pic ( March 13th) I helped off the skin if it was hanging off and I knew it wouldn't heal. So yes, I did help them off when the skin was hanging off. Here are some further pics in the week or so after that:

March 17th:





March 20th:





March 23rd:






I probably helped the skin off a bit aroung March 19th - March 23rd alright, when it was very brittle and hanging off.

But this time, after that the skin didn't grow back as normal, in the crusting layers or whatever. There was only some slight flaking and after a couple of weeks it was minuscule. Then I just showered as normal and it didn't matter if the lips got wet.

April 7th, still some slight peeling on lower lip:






April 11th, still some peeling: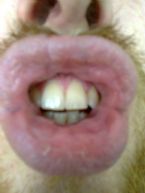 Today, still looking good (see pic April 27th in post above in this thread).

A couple of times when the lips were very dry around the week of March 13th to ~ 20th I did put a little bit of 100% natural, 95% organic "Yes to Carrots" lip butter, but very little. But mostly absolutely no lip product.



Anyway, that't mostly it.I would seriously advise to try and go jogging outdoors or get some form of exercise every week as this can help with the detoxification.

I should also mention that if you have access to a sauna in a local gym or swimming pool, then this can help with detoxification also. Sauna induces sweat, and sweat is one of the body's methods of releasing toxins.
I go swimming once a week, and use the sauna afterwards for about 10-15 mins. I didn't put it down in my original posts, as 10-15 mins once a week is not much and I don't think it was a main factor of detox in my case. I would spend longer in the sauna, it's just I get pretty uncomfortable in them after a while. But some people on the forum have had some success with their condition by using a sauna or steamroom several times a week, often after exercise, i.e. sweating followed by more sweating out of toxins. This can be good for detox, but make sure if you do go down this route to replinish the body with water and nutrition afterwards. If you do not have access to a sauna then I wouldn't worry.

Also, I mention in my posts that I do oil chewing/oil pulling. I use cold pressed organic virgin Sunflowere Oil (first cold pressing) to be specific. I mention in the post that either Sunflower, or Sesame, or Vegetable oils can be used. From what i've looked up, Sunflower and Sesame are the best, though maybe they all work. Also, in my earlier posts I gave a link to oil chewing/oil pulling that mentions to gargle the oil in your mouth, as well as swishing it, chewing on it, etc. However, I do not gargle it in my throat, and just swish it, chew on it, squeeze it between my lips and teeth, and swash it around the mouth. I have since seen online that it is better NOT to gargle it in the throat, presumably to ensure any of the oil is not swallowed. That is why in my last update post on the forum that I did not include gargling in the method, though it may not make a major difference.

Aside from that, I don't have any more information of relevance for you in relation to my methods. Ensure you do the lymphatic self-massage, and hopefully you will see results, as I would be astounded that these particular methods only work for me.

Good luck!




<< Return to the standard message view
fetched in 0.09 sec, referred by www.curezone.com/forums/fmp.asp?i=1935854