Newly diagnosed with AF: Pregnenolone, Licorice Root, and ANXIETY by digifem ..... Adrenal Fatigue Forum
Date: 10/20/2014 7:35:47 PM ( 7 years ago ago)
Hits: 3,001
URL: https://www.curezone.com/forums/fm.asp?i=2213676

Hi,

I was diagnosed with a "slight case of hypothyroidism" 4 years ago after 6 months of sudden extreme anxiety and panic attacks, followed by another 6 months of unnecessary psych meds. Once diagnosed, I stopped all psych meds, and began taking 25mcg of Synthroid and Vitamin D. All was well for 4 years. I felt fantastic. The only issue I had was a strange case of pleurisy a couple years into it that disappeared on it's own after a couple of weeks. My Synthoid dose was never adjusted, and I had no symptoms.

Fast forward to late May of this year. I'd been going through a lot of stressful situations when I developed petechiae on my thighs, got my period 9 days early, and began experiencing extreme fatigue out of nowhere. This literally happened over night. It quickly progressed into malaise, headaches, severe brain fog, low blood pressure and body temp, hair loss, constipation, flaky skin, dry eyes, dizziness, and more. After a month I was completely bed ridden. I stopped working and going to class. I thought I was dying. I'd been to multiple GPs, my OBGYN, the ER, and no one could figure out what was wrong. I became convinced it was my thyroid, but my number were "normal." I have no hashis antibodies, negative for lupus, EBV, lyme, parvo, and more.

I tried upping my Synthroid (went badly,) then switching to Armour (went VERY badly.)

During this time I also developed a pretty bad Vitamin B6 toxicity which subsided as soon as I stopped the multivitamin I'd been taking for 5 years. This caused an MS scare and a few neurologist visits.

Over the next few months I saw more than a dozen doctors and had tons of tests. FINALLY I decided to try a functional med. doctor. He ordered a complete amino acid profile and a cortisol/dhea test.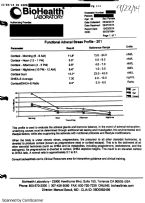 Stage 3 adrenal fatigue. He told me to stop taking thyroid meds completely. He does not think anything is wrong with it since I was fine on the "placebo" dose for so long. He put me on 15 drops pregnenolone 2x day, 8 drops licorice root 2x day, Vitamin D, and C.

The problem is that I'm TERRIFIED of anxiety. My experience over the last few months as well as the HELLISH Armour trial period has given me a bad case of health anxiety.

So far I've stopped the thyroid meds and waited 7 days taking nothing at all. Day 8 I took 4 drops pregnenolone alone as soon as I woke up. I experienced slight anxiety, and elevated energy almost immediately. I did this for a few days, then upped to 5 drops, and now 6 of just the pregnenolone. I intend to up it a drop a day for a few more days then slowly add in the licorice root. I still get a pretty bad afternoon crash. I assume because I only take the pregnenolone in the morning. I'm just horrified to become more anxious.

Am I making it harder on myself by titrating up so slowly? Are there any downsides to it? What about not taking the licorice root at the same time?

As for how I feel, I feel pretty good for several hours after I take it, then crash around 1pm like always, then perk back up around 6pm. My average body temp has gone from 96.9 to 98.5-6 since starting with morning temps averaging 98.4. Hopefully that's a sign that my thyroid is kicking in again. I'm waiting on some new thyroid labs to see what's going on there. I am also definitely not constipated anymore. Am I going in the right direction?

I'm just so tired of this. I'm 30/f and used to be a healthy, active, happy person. My life has changed dramatically since May. It's effected everything from my finances to my relationship to my career. I just can't go on like this much longer. My relationship is suffering because of this which is causing even more daily stress. Any advice would be GREATLY appreciated.

Thank you

<< Return to the standard message view
fetched in 0.09 sec, referred by www.curezone.com/forums/fmp.asp?i=2213676