Re: Thanks !! need more advice??:) by yeon ..... Ask CureZone Community
Date: 4/10/2015 10:51:08 PM ( 8 years ago ago)
Hits: 6,532
URL: https://www.curezone.com/forums/fm.asp?i=2247651

Thank you again for all your helps and supports. I didnít have a chance to drop by here for a few days, because I had another test done and the result came out just today.

here are my test resuls;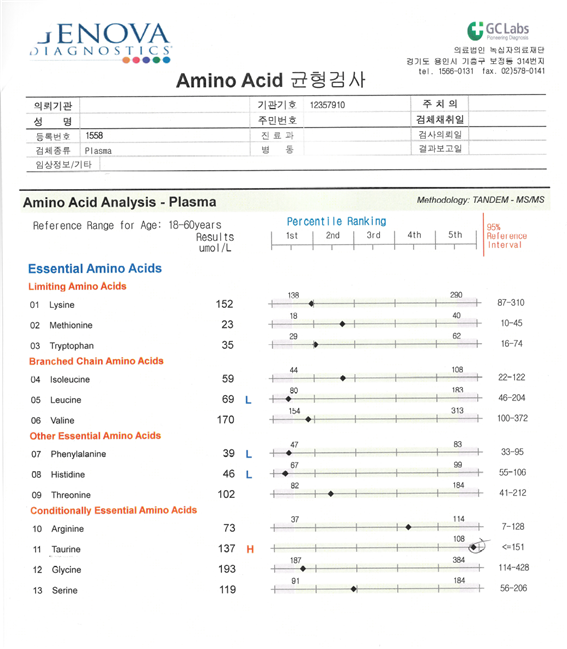 My doctor seems to be not so helpful and always irritated with me. Anyway, my test result says that I have low level of b12 and b6, high alcohol index, and lack of bcaa and other essential amino acids. Iíve been eating a lot of vegges and meats all days for 3 months now, and vitamine c,b,d, for almost a year. Absolutely not one drop of alcohol was allowed during my whole life. But My doctor did say some stuffs that are fairly informative though.
Taurine is soared Ė indicates that my liver is trying its best to clear up toxins
May lack of Sam-e, which is essential for converting amino acids into choline
May lack of digestive enzymes
So, I did a further research at home.
> High level of..
Alpha-Amino-N-Butyric acid : Vit B6 deficiency, chronic alcohol intake, by-product of colostridium species.
Phosphoserine : Vit. B6 deficiency
Phosphoethanolamine : Osteopenia, Vit.b12 or folic acid deficiency
> Low level of...
Leucine : chronic depletion from low protein intake, poor digestion or increased utilization or renal loss
Phenylalanine : chronic deficiency
Histidine : malabsorption, deficiency salicylates and steroids
Tyrosine : liver damage, deficiency of Fe, Tetrahydrobiopterin or NAD etc
Ornithine : Blockage of Urea-cycle defect, Hypo-prolinemia
Glutamine : ammonia detoxification problem, protein catabolic statue
I was surprised because earlier, you guys said to me that I need to intake several ingredients which make up of glutathione. Really, I felt that people on this forum are much well up on this area and professional than most doctors in my country..
So this is what iím planning to do, and would like to hear your opinions...?

N Acetyl L Cysteine
Acetyl L Carnitine
Alpha Lipoic Acid
Molybdenum
Glutathione IV shots


DGL with marshmallow root extracts, slippery elm, aloe vera
Zince Carnosine
L-glutamine
BCAA
organic plant protein(no sugar, low carb)
Sam-e(tosylate disulfate)
Digestive enzymes + HCL + Bromelain&Papain


additional intake of B12(Methyl B-12)
additional intake of B6

Also... may I ask one more question?
1. Iíve increased the dosage of HCL up to 8 pills(4000mg), but no feeling of acidic or reflux. I feel nothing but a burning sensation after finishing meal. Should I increase the dosage more? Is it possible to have this kind of stomach acid lacking?

<< Return to the standard message view
fetched in 0.23 sec, referred by www.curezone.com/forums/fmp.asp?i=2247651