cucked aussies and weather weapons by trapper/kcmo ..... Ask Trapper
Date: 7/26/2021 11:57:04 PM ( 3 months ago ago)
Hits: 52
URL: https://www.curezone.com/forums/fm.asp?i=2441455

0 of 0 (0%) readers agree with this message. Hide votes What is this?

jimstone.is
Australia PM: If you want to live your life anywhere but under quarantine you HAVE TO get the shot, and if it hurts you it is YOUR FAULT.
That's pretty audacious corruption. "We'll put in place draconian lockdowns to FORCE the population to get the jab because over 85 percent refused it, and then we'll blame them if anything happens!!!" YOU HAVE TO GET THIS SHOT, AND IF IT EFFS YOU UP, IT IS YOUR FAULT BECAUSE YOUR DOCTOR SHOULD HAVE SAID NO!!!
He's an ass, because that same PM is making life a living hell in Australia to force people to get the shot, and how are you going to get a doctor to say no? Australia is going to force everyone to get that shot by making it impossible to survive without it despite the PM stating it is "their choice" to get it. And then, subsequently, those forced into the shot are responsible for what happens, or the doctor who said it is OK is responsible for what happens, so the privileged can just screw over everyone and walk away scot free. I'll tell you how that works. There are some very special people with a religious exemption via insider doctors. They don't want the jab, and they are going to blame anyone who cannot escape it for any damaged caused after the very same doctors who let them off the hook force everyone else to get it. And then, they'll cry FOUL against the people they destroy. You can't make this stuff up, HERE IT IS.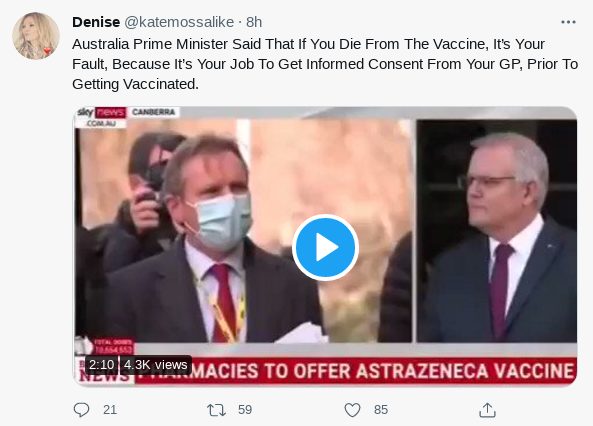 Even if that's not what this is, the Chinese ARE seeing the type of ring cloud shown in the Haarp report, I caught the holy grail of comments in Chinese.
This video was shot right where the horrible floods are.
I am a little suspicious this might be some sort of light show, but the Chinese are quite worked up about this, there are over a thousand comments and you'd think they'd know if this was something normal. So it definitely worth seeing what they have to say about this. Translations from comments in Chinese - (obviously just the top few)

"The suspected giant ring is in the clouds, and the ring flashes with blue light..." My comment: Oh, you mean that ring I keep posting??? The one at the top of the page now? That's actually an earth shattering comment considering the Haarp report.
"God has come to save the common people" - My comment: That's probably a CIA post because the communist party is supposed to be operating under divine mandate, so that's a direct challenge to XI. It is also obvious this sky show is not natural.
"At first I did not believe it until I heard a child in the video talking about it, a child will not lie" "The unsatisfied injustice hovered in the sky" "If there is a different aspect in the sky, there must be disaster! Bad omen!" "Seeing you say that these are unjustified, I don't know why I cried when I watched it..." "Don't look at it, pack a life-saving backpack, and prepare to escape at any time. If you live in a high-rise building, don't run into the street. Go to the neighborhood upstairs to be sheltered and overcome the difficulties together, Amitabha" "Ominous omen! So many undead who died unjustly in the water!"
"It should be the US emperor's TR3B looking at me! It appeared in Shanghai last month."
"The child even talked about the United States, China is so good..." "It feels like a dead soul. Thousands of people died, too much, too much" "The weather weapon is here again, run away"
<< Return to the standard message view
fetched in 0.05 sec, referred by www.curezone.com/forums/fmp.asp?i=2441455